I was photographing in New England last week while my wife was attending a machine quilter's meeting in Manchester, NH. One of my stops was at Portland Head. While I did photograph Portland Head, I was also interested in taking advantage of the clear spring air over the water to photograph the lights off shore. In particular, I wanted some shots of Halfway Rock from Portland Head, which is 8+ miles away. Here's a map ala Google that shows the local geography: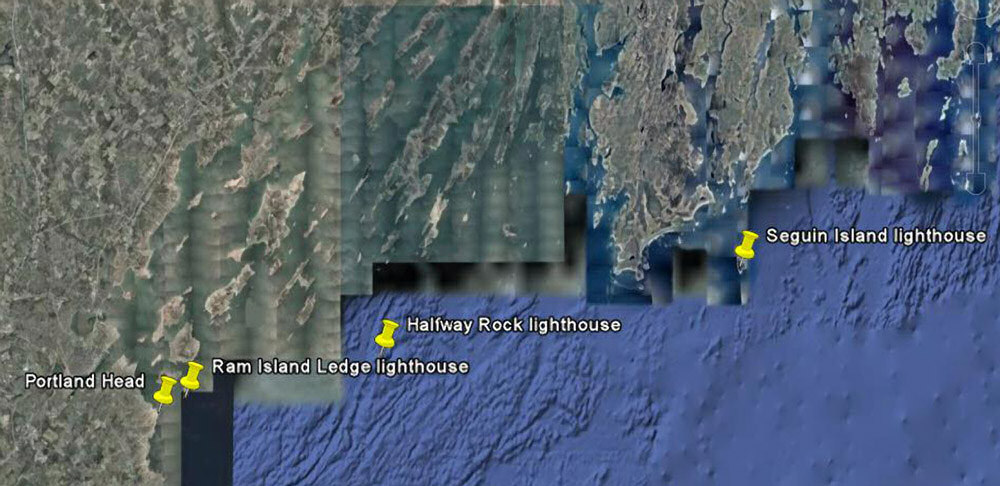 I had the Nikon 500 mm f/4 AF-S lens mounted on a Nikon D200 body with a Nikkor 2X AF-S teleconverter between the lens and camera body, giving me an effective focal length of 1500 mm at f/8 courtesy of the telephoto factor of the DX sensor in the D200. Here's what that combination afforded. Getting Halfway Rock wasn't at all surprising. What was a bit of a surprise, however, was a very distant view of Seguin Island lighthouse off to the right. Checking Google Earth, from where I was shooting at Portland Head to Seguin Island is about 23.5 miles

1500 mm is too much lens to photograph Ram Island Ledge from Portland Head. The lighthouse more than fills the viewfinder. Taking the 2X from between the lens and camera body, however, gives you a nice shot of Ram Island Ledge.