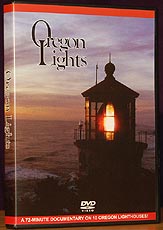 Oregon Lighthouses Under the Tree

"Oregon Lights" is a DVD from Oregon Coast Show cameraman and producer Scott Gibson and writer David Anslow, now available online at

www.oregonlightsdvd.com

. The award-winning show was aired on Oregon Public Broadcasting a few times in the early part of this decade, and made a splash then. Now, you take those lighthouses home with you.

13 chapters of the video take you through all ten of Oregon's lighthouses, including the private lighthouse owned by famed maritime author Jim Gibbs, as well as some other related subjects.

Those who love to travel the Oregon coast will find this film intoxicating. The DVD is 72 minutes of glorious footage, beautiful scenery, and fascinating background information and history. It takes the viewer on a tour of all the lighthouses up and down the coast, through their history, and touches upon the legends of hauntings as well. It even features interviews with Gibbs, who not only served aboard the crazed Tillamook Rock Lighthouse until it was shut down in 1957, but created his own small lighthouse at his home in Yachats.

The DVD is $10, with free shipping and handling. It can be previewed and ordered at

www.OregonLightsDVD.com

.