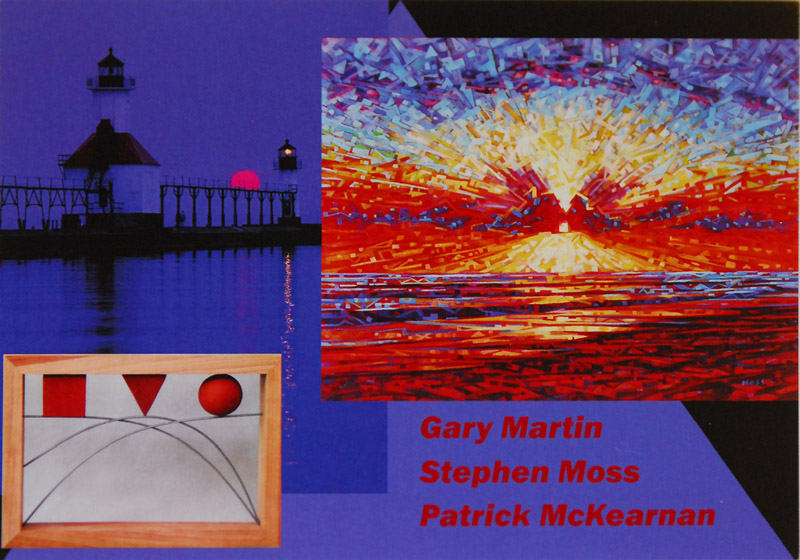 That is the invitation for a gallery exhibit at the Krasl Art Center, 707 Lake Boulevard, St. Joseph, Michigan 49085 (269) 983-0271;
The exhibit opens Friday, May 23rd at 5:30 with a reception and runs through July 20th.
What's on the back of the card:
"Enjoy a trio of exhibits at the Krasl this spring. Gary Martin's memorable lighthouse photographs, featured on the cover of

Great Laker Magazine

will be on view in all their original glory. Regional painter Stephen Moss will take you to a higher realm with his mystical and multi-faceted abstract landscapes. Patrick McKearnan will intrigue and delight you with his multi-media tension sculptures. Together, there is something for everyone to enjoy. Free and open to the public.

LIGHtHOUSE PHOtOGRAPHY - Gary Martin -

Underwritten by Chemical Bank

ABStRACt LANDSCAPE PAINtINGS - Stephen Moss: A Retrospective

Guest curator Craig Smith, of Craig Smith Gallery

TENSION SCULPtURE - Patrick McKeanrnan
Perhaps some of the crowd from here on lh.net who live in the area can make it for the opening reception or during the run of the exhibit.