I was out in St Joe dealing with an exhibit disaster
It would seem that despite the reassurances of the UPS guys in New Providence, NJ who did the packing that you could throw a large 20x30 framed print off a building without having any damage simply wasn't enough. We were trying to decide if A) Someone just stepped in the middle of the print going to get something else off a truck; B) Whether something in the load shifted and feel on it, or C) the gorillas saw the fragile and glass labels and just
HAD
to see if they could do it in. Judge for yourself from the following pair of pictures how well it was done in!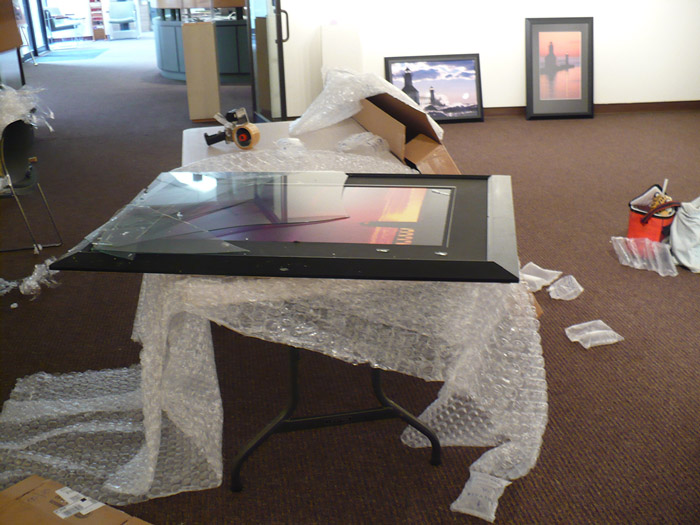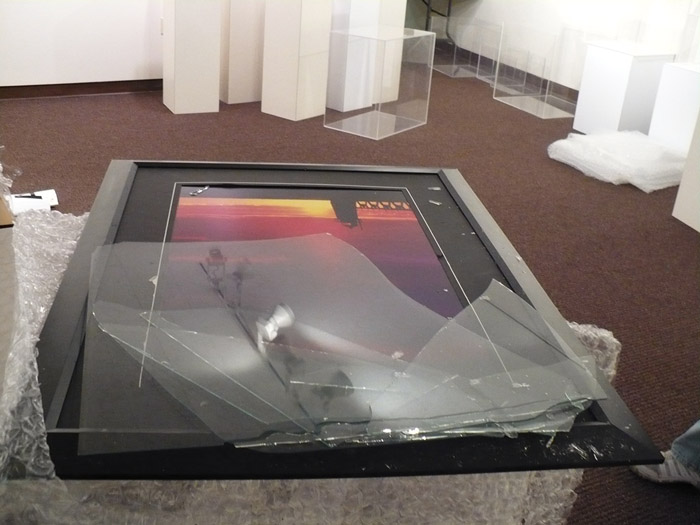 Photos above courtesy of Tami Gadbois, Krasl Art Center, St Joseph, MI.
The old adage is, "The show must go on," and it did. Fortunately all of my large format prints are done by Kalamazoo Color Lab (Kalcolor.com) in Kalamazoo. I called Jamie Kavanaugh the owner and had a 20x30 replacement print by 11 AM the next morning. The gals at Waterfront Framing and Fine Art, who I've worked with for years had the mat boards and frame molding and by Thursday afternoon, a new 20x30 print was ready to hang for the exhibit opening reception on Friday night.
Tami Gadbois, the new exhibit curator at St Joe was hanging this as her first exhibit and, needless to say, was pretty distressed at having to deal with this sort of problem her first time out, but, all things considered, she handled it with a great deal of aplomb.
Meanwhile, back to Tuesday... I hadn't planned on shooting in St Joe on Tuesday evening, but after going out to see the damage and to start making arrangements to get a replacement print made I was there and went to the top of the dunes in Tiscornia Park to decompress from the UPS shipping debacle. The late afternoon sky was SPECTACULAR
Below is a sample. More later and I'll upload some photos of the exhibit.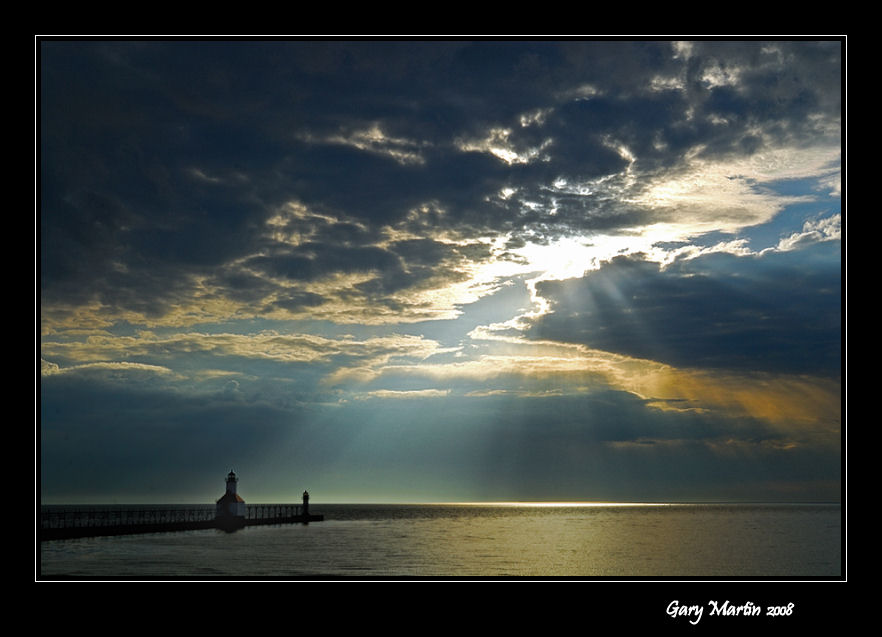 I guess if there's a moral to this story, INSURE YOUR WORK TO THE HILT whenever you have to ship something for an exhibit. All of the eight boxes shipped to St Joe for the exhibit were heavily insured. I don't have an answer back form UPS yet, but they packed it for shipment so they can't dodge liability for this one