I've been sitting back watching this one bounce back and forth for a couple of days and figured it was time to throw in some comments. Consider these comments as coming from whatever category of photographer you wish to categorize me in, I don't much care personally.
The premise that the average viewer can't appreciate the nuances of a photograph that was done with a very high degree of technical competence is about akin to someone saying that the last time I stood in front of the Mona Lisa I couldn't appreciate it because I'm not a painter or an artist. I've stood in front of that painting several times and am amazed every time I look at it.
An individual's technical competence and mastery of their equipment comes together with the photographer's vision, composition, and all the rest of it to make a great photo. People viewing the photograph can appreciate that without having to understand any of the techno crap that went into making the image... On the other hand, there are those who think that a black velvet Elvis ranks up there with the Mona Lisa, Starry Night, Edvard Munk's "The Scream," or whatever else you want to put on the list, but so it goes. Some of those who appreciate photography will buy it, others won't.
As for predicting what people want... that's simple. They always want what you DIDN'T print and bring along! In my experience here in NJ, storm photos of big waves and massive clouds of spray going over lighthouses sell well. I must admit though that it always miffs me when someone, after looking through my storm images, asks if I sell "that famous print of the big wave going over the lighthouse by that guy... I think he's French..." or something like that. D'oh... what is it that you didn't understand about the caveat about the show that says "handmade" or "original" or something like that? Sunrise and sunset lighthouse photos sell well, as do lighthouses sheathed in ice (they're not brave enough or stupid enough here in NJ to get out in those conditions themselves with a camera, I guess!). Images that the viewer/customer can connect with because of where they came from or vacationed when they were a kid, where their parents have retired to, etc. are always high interest IF you have them. That said, I almost always have multiple prints of Ponce de Leon Inlet Florida with me with I do and arts & crafts show here... I usually sell at least a couple of them. The same goes with photos of some of the lighthouses that have
'iconic"
status - Cape Hatteras, Portland Head, Nubble, Split Rock, MN. and around here vertical panos of the Little Red Lighthouse Beneath the Great Grey Bridge made famous by the children's book.
Barry posed the following question...
Lastly, will one of the "pros" here speak to the topic of the number of frames shot on a shoot. Many times, as these accounts are relayed to us, its in the hundreds and the number is spoken with pride ... what were the criteria of those that pass muster and those that dont ...
I guess I could laughingly say that I shoot until I run out of space on the CF card(s) but that's not accurate any more. There are two CF slots in my D3 and they always have at least 2 x 16 Gb cards in them, which gives you the capacity for thousands, not hundreds of shots in RAW mode. When I photographed at dawn at Nubble the week we were in Maine, I probably shot 50-75 frames in the predawn. There, the changing light and changing nuances of color drove the number of shots, as did playing with EV values and hence color saturation, shooting angles, focal length choices, and changes in what I was/wasn't able to capture in terms of foreground detail (you can look at some of what made my cut on another thread here on lh.net and below and there are others). Going around Cape Horn a couple of months ago I ended up shooting 44 Gbytes of RAW files - that translates to somewhere around 6,000+ photos. Have I looked at all of them 2+ months after my return home? No, not yet. Will I get through all of them -- yes, eventually. I've found that many times when I go back through large collections of images months or even years later, I find things that catch my eye that didn't for whatever reason when they were originally shot. To some extent, my vision is evolving and changing with time and will probably continue to do so. When it comes to storm images, sometimes you're looking now for some nuance in an image that you didn't care about when the images were first captured. In one case I got prismatic rainbows in the spray clouds that I didn't know that I'd captured when I shot the images and didn't find until a couple of months later (there were about 5,500 images shot during the last big fall storm that I photographed on Lake Michigan in November 2005 and I knew I would be leaving the state in a few months and my convenient access to the lights and the storms on the lake was going away!)
When I'm shooting, I don't even think about numbers of images that I'm shooting. I frequently wander about with one camera in hand and a collection of lenses and a second camera body in a messenger bag over my shoulder. I let the scene unfold as I walk about and shoot when I see an angle or composition that captures my eye. Sometimes I have a "plan" of where I want to shoot from, e.g. the Pemaquid Point shot below was shot from an angle that was preplanned in my mind's eye from having been there before.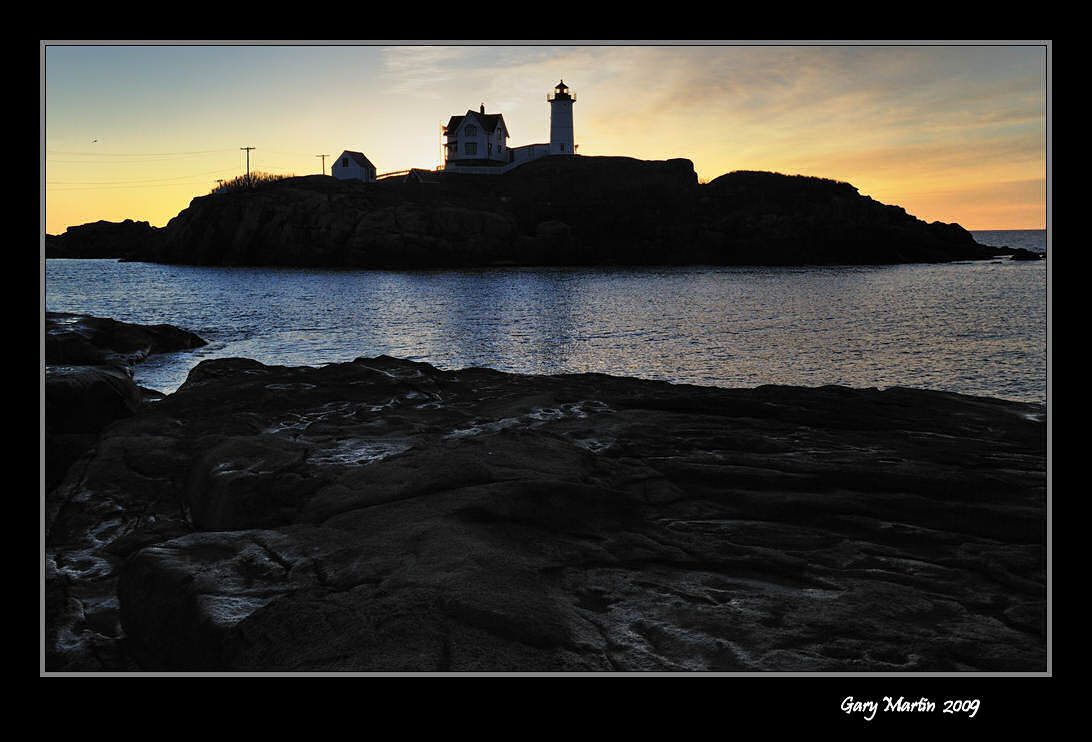 Other times, if it's a light that I've never been to before like Minot's Ledge, I don't have anything planned and take advantage of what I find, e.g.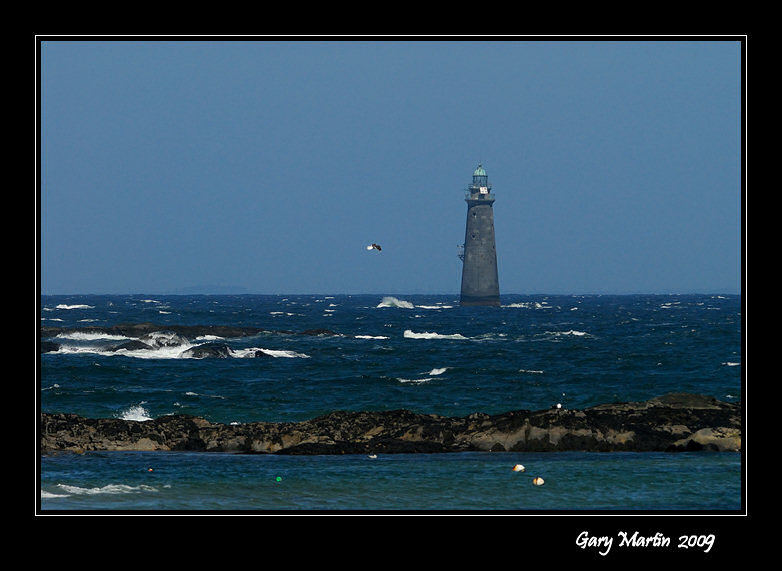 I don't know if this answers your question or not, Barry. If my trained gull won't fly where he's supposed to I keep shooting. BTW, Bodie Island was a flight of pelicans going by the lantern room. If the waves aren't cooperating I may either keep shooting or I may quit and go somewhere else if the storm is abating. At sunrise I quit when it gets too bright. At sunset, I usually shoot until the exposure times are getting ridiculously long and/or when there's no residual light left in the sky even for the camera. The latter happens long after your eye is telling you that it's dark.