Photographer/Picture Taker ... As if we need another example but here it goes ... Every follower of LH.net knows the respect I have for Gary and his work (If I were to go on one more time about his Harbor Beach shots he would have to hire me as an agent) but, being able to "use" him to illustrate, Gary, I hope you dont mind ...
I was trolling for additional "catwalk" pictures for the thread on the Kewaunee Pier Light ... a couple pages into a GOOGLE image search I found this unattributed shot from the WMTA (Western Michigan Tourist Association) website ...
Having some flecks of a memory left, it provoked a thought of a 'similar image' from Gary ... I would hope he wouldnt mind my using it here ... plus I get to say "reciprocity failure" (and, recalling our private discussion on saturation, we can revisit the "red" discussion at another time
)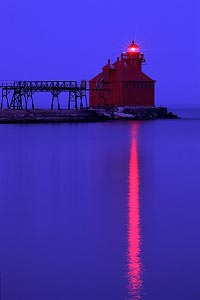 I like the first shot. It was "taken" I could have been the photgrapher. Who doesnt love the second shot. It was "executed" I wouldnt have had the patience or technical skill or the equipment to create it.
Picture taker/photographer