For those who didn't know, Lilnda and I celebrated our 25th wedding anniversary last week and decided to take a cruise in the western Caribbean. Here are a couple of shots from the 14th deck (short of climbing the flag mast you can't get any higher) of the Carnival Vicotry as we left Miami. There were probably a lot of people who didn't like the weather... personally, for photography IMO at least it couldn't have been better.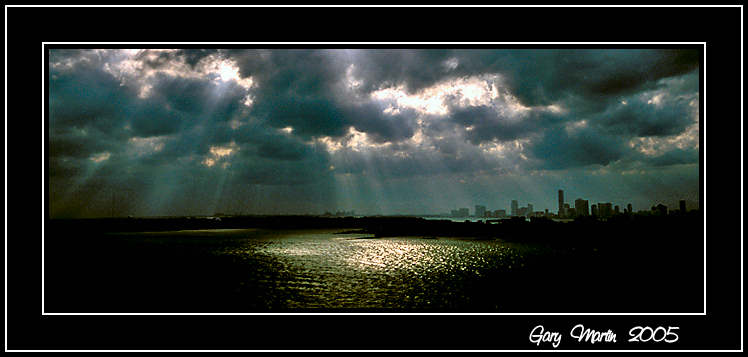 This first shot has the Atlantic in the foregroun with a little sliver of Biscayne Bay visible in front of the skyline of Miami. We were probably a mile or so off shore when this was shot with a 24 mm lens.
About 8 or 9 miles (I'm guessing on the distance) off shore, the storm appears to have decided to dump on Miami creating this almost surreal image of the distant skyline with the color of hte approaching sunset beneath the clouds. Sorry about the width of this one if you're looking at this on a smaller monitor and have to scroll. The was shot at 300 mm.