For the 2009 season, GLLKA is pleased to announce that we will be offering Volunteer Keeper opportunities at both of our lighthouse in Northern Michigan, as follows:
Cheboygan River Front Range Light
Lake Huron, Michigan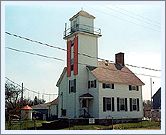 Located just a short walk from downtown Cheboygan, this lighthouse remains the focus of a major restoration effort. Even as the work continues, GLLKA recruits volunteer couples to live in the lighthouse on weekends from Memorial Day through the end of October to keep it open for tours, operate the gift shop, and perform housekeeping and minor maintenance. As an added bonus, volunteers also conduct interior tours of the old Cheboygan Crib Light.
Volunteers will stay in bedrooms on the second floor of the lighthouse, with full bathroom and shower facilities and a small kitchenette located on the main floor. A number of excellent restaurants are also located within walking distance or a short drive from the lighthouse.
There is no charge for this opportunity; however, volunteers must be GLLKA members to participate. A family membership costs $50.00 and can be purchased in the online store on the GLLKA website, or by calling our office.
St. Helena Island Lighthouse
Lake Michigan, Michigan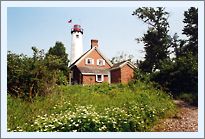 Serving as a volunteer at the St. Helena Island Lighthouse offers a unique opportunity to experience life as it was lived at an offshore lighthouse circa 1900. Without electricity, indoor plumbing, or the intrusion of telephones, television and the Internet, life quickly becomes simpler and more meaningful than anything you have likely experienced previously. Volunteer keeper openings for 2009 are available from mid June through mid August, with tours of duty ranging from a minimum of 5 days during the entire 2 month period, based on the volunteer's availability. Positions are open to singles, couples and families; however any children must be at least 8 years of age to participate.
Volunteers will be transported by boat from Mackinaw City to St. Helena Island and will spend their entire tour of duty on the island before being returned to Mackinaw City. Duties can run the gamut from painting, cooking, sanding, washing dishes, cleaning, hand-pumping and carrying water, serving as tour guide to clearing brush and weeds. An experienced keeper will be on site throughout your entire stay to offer guidance and assistance. There will be ample time for leisurely activities. The sunsets and sunrises are beautiful beyond description.
Cost for the program is $75.00 to cover transportation costs to and from the Island from Mackinaw City, and $12.00 per day for food and incidentals. Volunteers must also be GLLKA members in order to participate. A family membership costs $50.00 and can be purchased in the online store on the GLLKA website, or by calling our office.
For additional information on these volunteer opportunities, contact the GLLKA office at:

GLLKA, P.O. Box 219, Mackinaw City, MI 49701
Phone: (231) 436-5580
Email: info@gllka.com
Website:www.gllka.com